Bernie Sanders is an independent running in Vermont. He is honest and fights for very important issues, such as corporate domination of media, workers rights, and protecting the environment. I donated some money to his campaign, which you can do too by going to his website: www.bernie.org.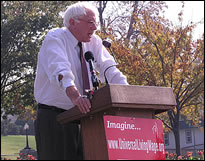 You can also learn more about what he is doing now in the House of Representatives at: www.bernie.house.gov
Leave a Reply
You must be logged in to post a comment.